Largo, FL – ONICON Incorporated introduces increased line size availability on the F-4300 Clamp-on Ultrasonic Flow Meter. The F-4300's updated features include:
• Available for Pipe Sizes 1⁄2" to 48"
• New 30 Series Transducer Selection with NEMA 4 (IP66) Threaded Strain Relief Connector
• Enhanced Performance on Older or Corroded Piping
• Ideal Solution for Retrofits & Baseline Monitoring
• Simple to Install with High Confidence and Reliability
• Native BACnet & MODBUS Communications
• Certificate of Calibration Accompanies Each Meter
The ONICON F-4300 Clamp-on Ultrasonic Flow Meter is the ideal tool for measuring flow when it is difficult to install insertion or inline flow meters. The meter utilizes a matched pair of high precision signal transducers to measure flow through the pipe wall. It is designed for use with pipes ranging from 1⁄2" to 48" in diameter and works with most commonly used pipe materials.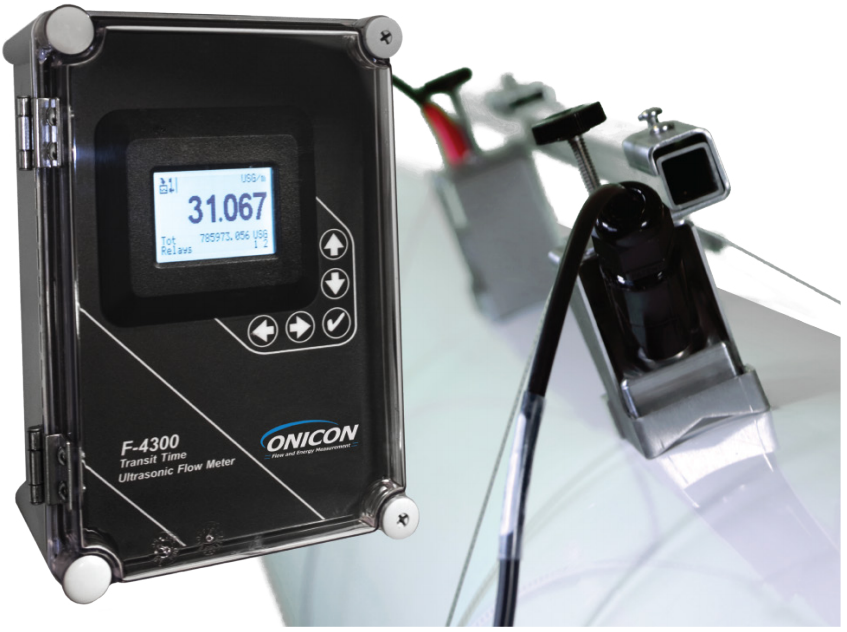 The F-4300 is simple to install and commission. Clamp-on transducers allow for quick and easy installation with no system shutdown and no pressure drop. Each meter is provided with a built-in 128-megabyte data logger and is configured and programmed to the customer's application data, so complex field programming is not required.
"The F-4300 is the non-invasive approach to highly accurate hydronic measurement.
Now, with the introduction of the 30 Series transducers, the F-4300 can accommodate pipe sizes up to 48" and provide
an excellent solution for troublesome retrofit applications where the piping is older or corroded." says Doantrang Le Tran, Product Manager for ONICON Incorporated. For pricing and availability on the F-4300 Clamp-On Ultrasonic Flow Meter, contact your local representative today!
ONICON's F-4300 Expanded capabilities now available!
#FlowandEnergyExperts #ONICONFlowandEnergyMeasurement #UltrasonicFlowMeasurement
ONICON Incorporated has been manufacturing highly-accurate flow meters and energy measurement systems for chilled water, hot water, condenser water, steam and natural gas systems since 1987. For more information, visit www.onicon.com or e-mail sales@onicon.com.
Download This Document