Largo, FL – ONICON Incorporated introduces the F-4300 Clamp-on Ultrasonic Thermal Energy Measurement System, the ideal, non-invasive solution for accurate flow and energy measurement. The F-4300's features include:
• Highly Accurate Flow & Energy Measurement From a Single Instrument
• Ideal Solution for Retrofits & Baseline Monitoring
• No Factory Start Up Required – Calibrated & Programmed for Your Application
• Comprehensive Installation Kit with All Needed Components – Simple to Install
• Bath-Calibrated & Matched High Precision Temperature Sensors
• NIST Traceable Certificate of Calibration
• Native BACnet® & MODBUS® Communication, Optional MODBUS TCP/IP
• Built-in 128 Megabyte Data Logger – Capacity for 26 Million Points
• 1 Year No-Fault, 3 Year Manufacturer Warranty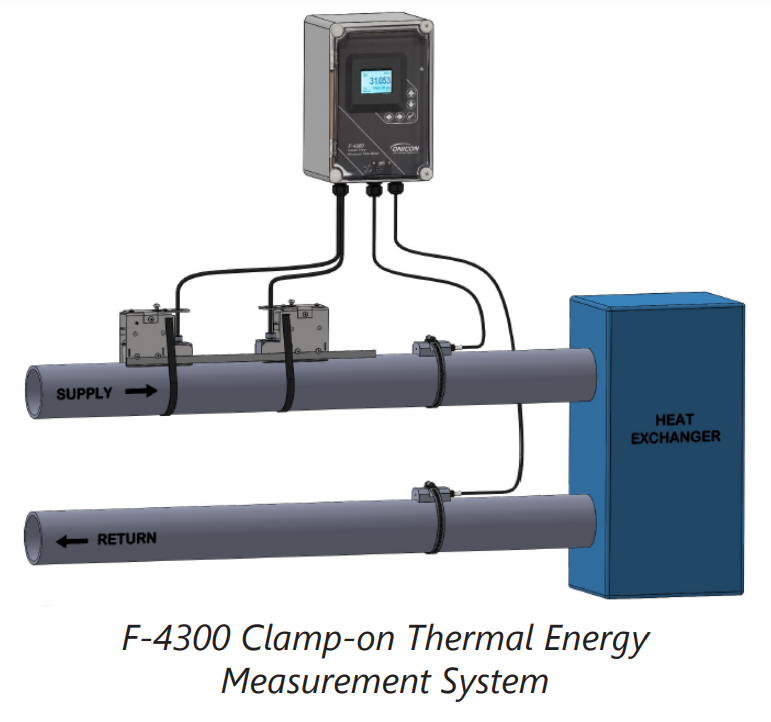 The ONICON F-4300 Clamp-on Ultrasonic Flow Meter is the ideal tool for measuring flow when cutting into the pipe and/or system shut down are not possible. When provided with a pair of matched, high precision temperature sensors, the F-4300 arrives as an all-in-one thermal energy measurement solution.
The F-4300 is simple to install and commission. Clamp-on transducers and a wide selection of temperature sensor mounting methods make the installation straightforward. Additionally, each F-4300 Thermal Energy Measurement System comes from the factory fully configured and programmed for the specific application requirements; so complex field programming is not required. The built-in 128 MB data logger makes baseline monitoring a breeze.
F-4300 Clamp-on Thermal Energy Measurement System "The F-4300 Thermal Energy Measurement System combines non-invasive and highly accurate clamp-on hydronic flow measurement with the performance and features you've come to expect from ONICON energy measurement systems. This is an ideal solution for retrofits and projects where cutting into the pipe is not an option." says Zack Landis, Senior Regional Sales Manager for ONICON Incorporated. The F-4300 is designed for use in pipes ranging from 1⁄2" to 48" in diameter and works with most pipe materials.
For pricing and availability on the F-4300 Thermal Energy Measurement System, contact your local representative today!
#FlowandEnergyExperts #ONICONFlowandEnergyMeasurement #UltrasonicFlowMeasurement
ONICON Incorporated has been manufacturing highly-accurate flow meters and energy measurement systems for chilled water, hot water, condenser water, steam and natural gas systems since 1987. For more information, visit www.onicon.com or e-mail sales@onicon.com.
Download This Document