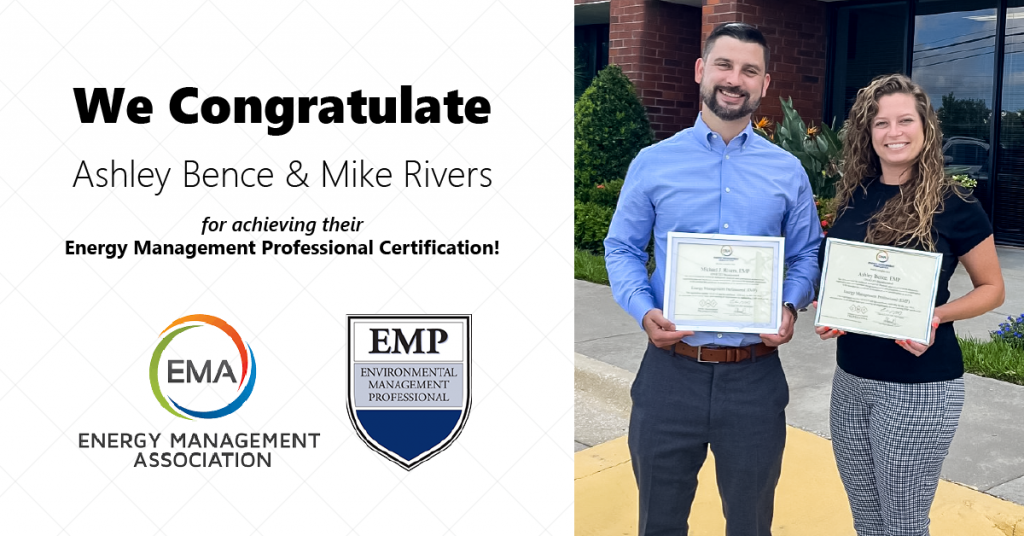 ONICON is thrilled to announce that our very own Senior Product Manager, Ashley Bence, and National Sales Manager, Michael Rivers, have achieved their Energy Management Professional (EMP) Certification! Both attended the EMP seminar hosted by the Energy Management Association (EMA) at their annual CxEnergy conference in April and sat for the exam immediately after.
This certification not only demonstrates their expertise in energy management, but also their commitment to meeting and exceeding the energy management standards and needs of today. EMA's certification holds a unique value: it is accredited by ANSI, recognized by the DOE's Better Buildings® Program in the Building Energy Manager category, and provides a commissioning-based approach to energy management that similar certifications do not offer.
Both Ashley and Michael are excited to add this credential to their resumés.
"The EMP Certification enables me to maintain my energy management expertise. As a senior product manager for ONICON & Air Monitor, the foundation of the program aligns with my goal to create products that enhance building performance" – Ashley Bence
"As the National Sales Manager for ONICON & Air Monitor, we are always working with engineers and facility directors to help achieve their energy conservation goals. This EMP certification helps provide me with further knowledge and expertise to be a better resource for the HVAC community." – Michael Rivers
Ashley has been with ONICON for 9 years and holds a degree in Chemical Engineering from the University of South Florida. Michael has been with ONICON for 10 years and holds a degree in Industrial Engineering and Management Systems from the University of South Florida. He is currently in the Executive MBA program at the University of Tampa.
ONICON is proud to partner with the Energy Management Association and support their goal of advancing the quality of energy management products and services for the benefit of building owners.