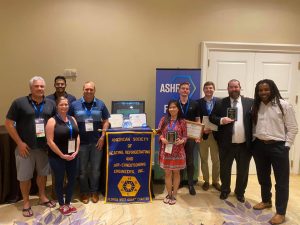 ONICON Incorporated is pleased to announce a successful showing this past week at the 2021 ASHRAE Region XII Annual CRC in Orlando!
The event provided a great opportunity for our Region XII ASHRAE members from all over Florida and Latin America to connect, discuss real world HVAC and control strategies and celebrate the past year's successes. The four-day conference included educational sessions, technical presentations, networking opportunities and a vendor showcase. But the highlight was the awards ceremony where our Florida West Coast (FWC) chapter was recognized with the Best Chapter award for 2020-2021 and ONICON's own Emilie Brun and Gabby DeFreitas were recognized as the region's best Young Engineer's in ASHRAE (YEA) Chairs!
ASHRAE FWC chapter members from our ONICON family, Doantrang Le Tran and Ashley Bence, attended the conference and worked alongside our Regional Sales Manager Zack Landis and Sales Application Engineer John Cook to share the #ONICONDifference at the vendor showcase.
"It was so great to get together and celebrate all our hard work during this crazy year we have had! Thank you to the Central Florida Chapter for hosting the event and congratulations to our own Florida West Coast chapter for overall best chapter in the region"
Doantrang Le Tran – Product Manager for ONICON,
2020-2021 ASHRAE FWC Chapter Member, and 2021-2022 ASHRAE FWC YEA Chair.
ONICON is proud to have had the opportunity to contribute to this event as a Silver Sponsor and to represent the ASHRAE FWC chapter. We appreciate the hard work of the board members, chapter chairs, volunteers and all that have contributed to the Region's success this past year. We look forward seeing everyone at next year's Region XII Annual CRC!