FP-4400 Portable Clamp-on Ultrasonic Flow Meter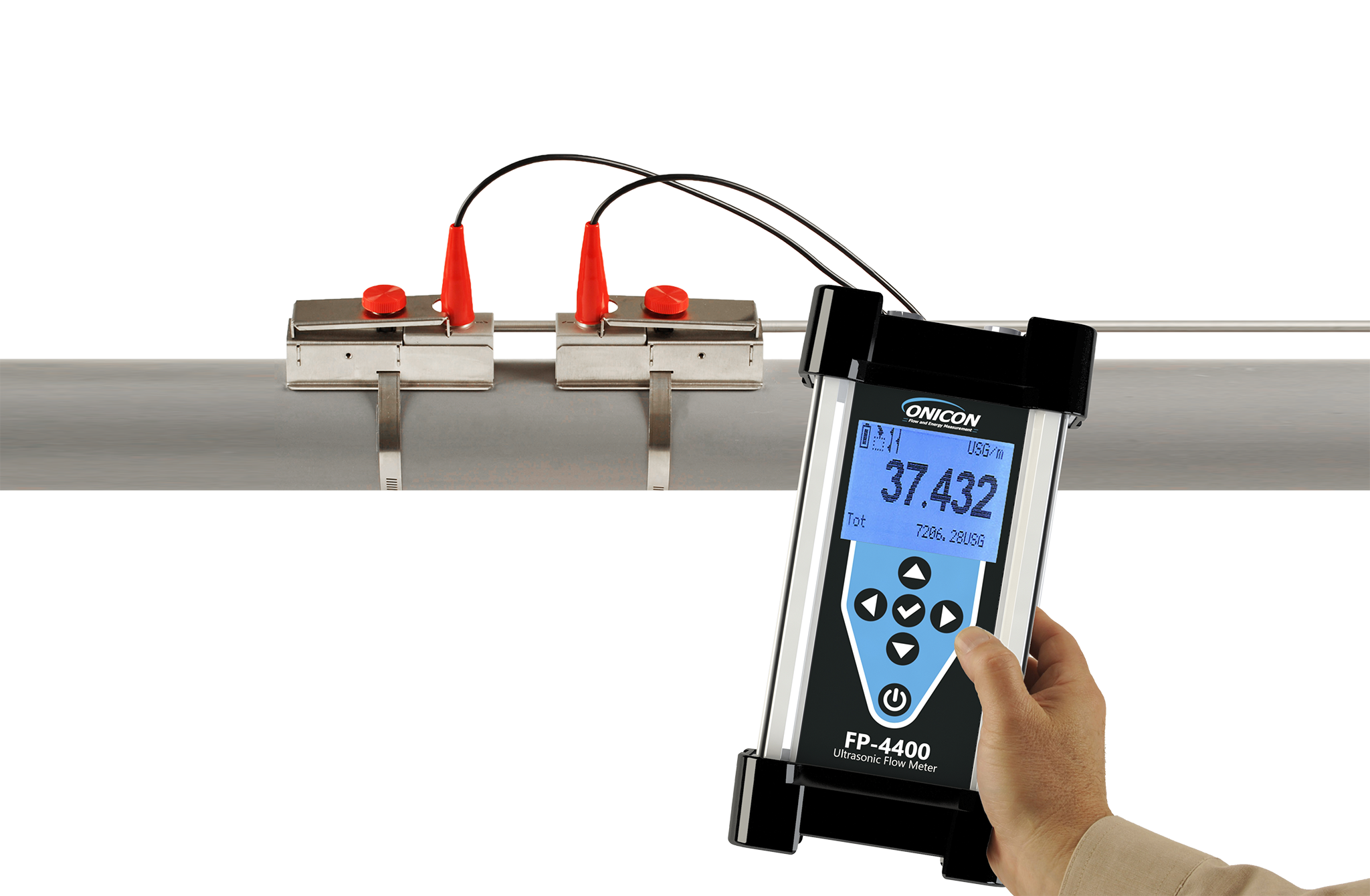 ONICON's FP-4400 Portable Clamp-on Ultrasonic Flow Meter utilizes clamp-on transducers to measure flow through the pipe wall via the transit time ultrasonic measurement principle. It is a battery operated flow meter specifically designed for use on a wide range of pipe sizes and can provide a full day of use on a single charge (an AC adapter is also provided for longer flow testing). The clamp on design does NOT require a system shutdown or penetration of the pipe in any way when installing and operating this meter. Instead, precision matched signal transducers are mounted on the pipe to accurately measure flow through the pipe wall. The rugged, handheld backlit display allows for easy set up via intuitive menus.
Typical Applications
The FP-4400 portable clamp-on ultrasonic flow meter is ideal for flow testing during test and balance. It is also useful for temporary flow monitoring in existing systems to establish baseline demand data.
Ideal, non-invasive tool for Temporary Flow Measurement
Clamp-on transducers allow for quick installation with no shutdown, no drilling and no pressure drop. Each meter is provided with a built-in 12 million point data logger making it possible to monitor flow over time.
Designed for Multiple Pipe Materials and Sizes
The FP-4400 is designed to work with many different pipe materials. A partial list of common pipe materials includes carbon steel, stainless steel, copper, PVC, HDPE and fiberglass. The meter will work with pipe sizes ranging from 

½

" to 48" in diameter.
Simple to Set Up and Use
The FP-4400 is easily configured through the handheld backlit display and 5-button keypad interface. Just enter the pipe material and OD, wall thickness and fluid type. The FP-4400 will then display the correct transducer separation distance.