F-5500 Series Thermal Mass Flow Meters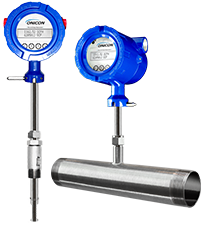 F-5500 Thermal Mass Flow Meters provide direct standard volumetric flow measurement of gases without the need for temperature and pressure compensation. Both inline and insertion versions of the flow meter are available. The insertion design allows for easy insertion or removal from the pipe without the use of special tools and without disrupting flow. Inline meters are ideal for pipes less than 1½" in diameter. The low maintenance design is provided ready-to-use without the need for field programming.
The F-5500 flow meter includes a bright, easy-to-read user interface/display that provides rate and total data. The standard version of the meter is provided with a 4-20 mA analog output and an RS485 interface that is field configurable for BACnet® MS/TP or Modbus® RTU. A second output signal configuration is available that includes a 4-20 mA output for flow rate and a scaled pulse output for totalization or alarm indication.