FSM-3 Supermag Insertion Electromagnetic Flow Meter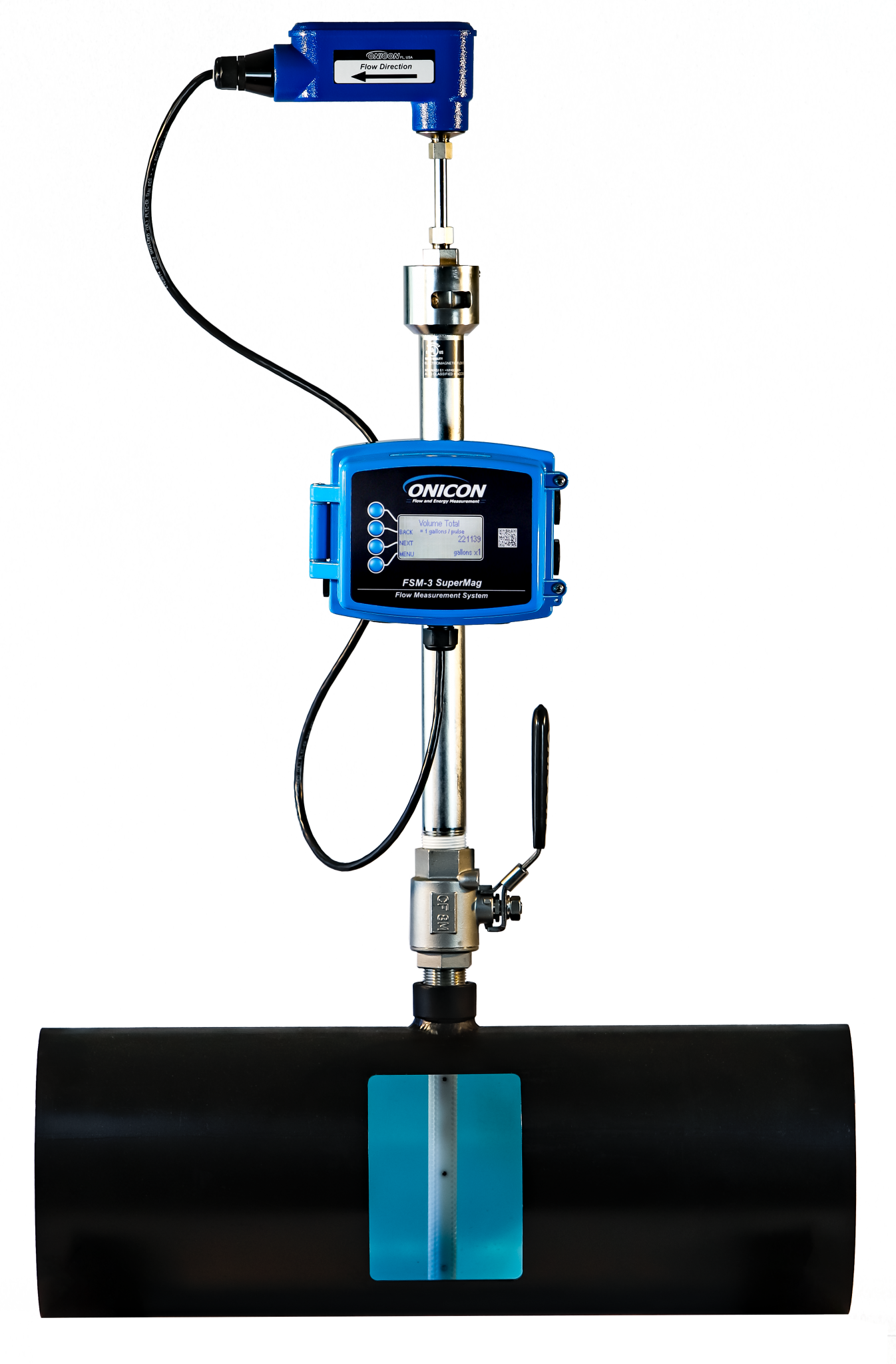 ONICON Incorporated's FSM-3 SuperMag Insertion Electromagnetic Flow Meter represents the state-of-the-art in electromagnetic water flow measurement. By incorporating the latest in DSP technology, the FSM-3 achieves the performance of an inline electromagnetic flow meter with the installation ease and flexibility of an insertion style meter. The FSM-3 are ideally suited for the demanding flow measurement requirements associated with today's High-Performance HVAC Industry applications.  The FSM-3 will interface directly with the BAS/EMS system.  Outputs provided include analog signals for rate information, scaled pulse outputs for totalization, and digital outputs for flow direction and alarms.
Typical Applications
The FSM-3 Insertion Electromagnetic Flow Meter is ideal for HVAC Hydronic applications including chilled water, heating hot water, and condenser water.
Exceptional Performance & Value
Cost effective insertion style design provides the accuracy and reliability found in inline magmeters.
Multiple Outputs
Three programmable pulse outputs and one analog output are provided with each meter.
Simple Installation and Commissioning
Factory programmed and ready for use upon delivery. All process data and programming functions are accessible via front panel display and keypad.
User-friendly Interface
Commissioning is easy via the back-lit display and smart button technology. No special configuration tools needed!
Manuals

FSM-3 SuperMag Flow Meter Manual (meters shipped on or after 03/26/2020)

FSM-3 SuperMag Flow Meter Manual (meters shipped prior to 03/26/2020)
Catalog Sheets

FSM-3 Supermag Insertion Electromagnetic Flow Meter Catalog Sheet
Guide Specifications

FSM-3 SuperMag Flow Meter Guide Specifications
CAD Files
Installation Documentation

FSM-3 SuperMag Installation Instructions
Technical Notes

FSM-3 SuperMag Insertion Electromagnetic Flow Meter – Troubleshooting Guide
FSM-3 Series SuperMag Insertion Electromagnetic Flow Meter Installation
FSM-3 Series SuperMag Electromagnetic Flow Meter Wiring Instructions